The Grand finale of the fifth edition of Rabindra Gaane Pratima Chandra Puroshkar titled "Aruprataner Sandhane" was held on Sunday, 17th April, 2022 at ICCR Auditorium, Kolkata. The competition was organised by Pratima Chandra Foundation, in association with Sri Chandan Roy Choudhury, Music Director. Rabindra Sangeet enthusiasts from different parts of West Bengal, and even from Bangladesh, showed interest for the auditions. Out of which 56 applicants were called for audition on 27th March, 2022 at P. C. Chandra Garden, Kolkata. The judges selected 10 participants for the grand finale. These participants performed live in front of the judges and the audience, through 2 rounds of competition.
Sri Chandan Roy Choudhury, Music Director mentored and arranged the competition in 2022.
Eminent Rabindra Sangeet artiste Smt. Srabani Sen and eminent singers Sri Srikanta Acharya and Smt. Lopamudra Mitra judged the Grand Finale.
The Auditions were judged by Sri Alok Roychowdhury, Sri Debashish Raychaudhuri and Sri Priyam Mukherjee.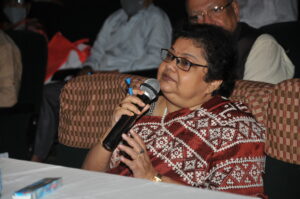 17th April: The contestants –
Ms. Abriti Chakraborty || Ms. Surangana Gupta || Ms. Sudeshna Saha || Ms. Suparna Ghosh || Mr. Pritam Chakraborty || Ms. Shrestha Chatterjee || Ms. Shreya Chakraborty || Ms. Sharannya Sengupta || Ms. Satavisha Ghosh || Ms. Puja Rajak
Congratulations!! In the competition Ms. Sharannya Sengupta of Santiniketan, Birbhum won the First Prize. The Second Prize was won by Ms. Shreya Chakraborty of Shimuliyapara, North 24 Parganas. Ms. Shrestha Chatterjee of Tallygunge, Kolkata won the Third Prize.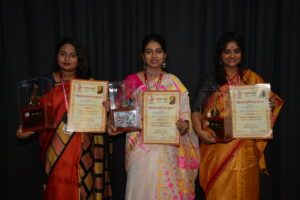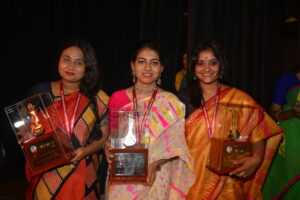 The winners were awarded total prize money of Rs. 61,000/- (Rupees Sixty One Thousand) and Trophies. The Managing Director of P. C. Chandra Jewellers, Sri U. K. Chandra graced the occasion and gave away the winners' trophies.