It was a unique opportunity for 20 promising female Hindustani Classical Vocalists to prove their mettle at the second Pratima Chandra Memorial Award 2017 held from the 3rd to 5th of November, 2017 at the Seminar Hall of Science City, Kolkata. This music-filled event was organised by Pratima Chandra Foundation, in association with The Dover Lane Music Conference and The Dover Lane Music Academy.
The eminent judges who graced the event were Pandit Falguni Mitra, Sri. Koushik Bhattacharjee and Vidushi Manjiri Kelkar – each of them authorities in their respective musical domain.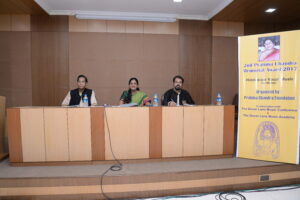 Sri Bappa Sen, General Secretary of The Dover Lane Music Conference mentored and arranged this competition for Hindustani Classical vocalists. With the supportive management of The Dover Lane Music Conference, the Foundation publicized the event through display advertisements in leading dailies, inviting talented vocalists specializing in Kheyal and Thumri (Jat & Aadhaa Taal). By the end of the first week of October a sizeable pool of talented vocalists responded and ultimately twenty got selected for the final round.
Each of the participants was given an opportunity to demonstrate their talent and perform in front of the eminent judges along with their choice of supporting instruments. Each Audition had a brief interactive session either at the beginning or at the end.
3rd November: The contestants –
Ashmita Patra || Laxmi Priya Nayak || Sreerupa Bhattacharya || Annesa Halder
4th November: The contestants –
Soumi Majumdar || Ratna Das || Sanchali Chatterjee || Amruta Shrirang Tambe || Tanvi Goswami || Ananya Bhattacharjee || Nibedita Bhattacharjee Bagchi
5th November: The contestants –
Sanjukta Das || Jaitashree Das || Susmita Guha Thakurta || Ananya Bandyopadhyay || Shreya Sen || Madhumanti Das || Richa Chatterjee || Amrita Ray (Roy) || Suparna Chattopadhyay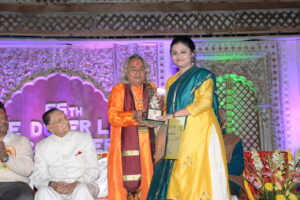 Congratulations!! In the competition Smt. Tanvi Goswami won the First Prize. The Second Prize was won by Smt. Sanjukta Das. Smt. Soumi Majumdar won the Third Prize.
The prizes were conferred by Sri B. K. Chandra, President of The Dover Lane Music Conference and the Chairman of P. C. Chandra Group, on 22nd January, 2018 at Nazrul Mancha, Rabindra Sarobar, Kolkata at the inaugural ceremony of 66th Annual Music Conference of The Dover Lane Music Conference.
PRATIMA CHANDRA MEMORIAL AWARD 2017  Judges Details
পণ্ডিত ফাল্গুনী মিত্র
Pandit Falguni Mitra
A foremost exponent of Dhrupad, the authentic and respected form of Hindusthani Classical music, Pandit Falguni Mitra was initiated into music by his father, Sangeetacharya Pandit Shib Mitra at the tender age of four and a half. Pandit Falguni Mitra combines the Dagar style of "Alaapchari" with the Betia style of Dhrupad and Dhamaar with a distinctive stamp of his own personality.
Possessing a deep, melodious voice, Falguni Mitra has brought about a reformation in this art-form through successful innovations in its melodic structure and rhythmic variations. Unwavering purity of the Raga, imaginative phrases loaded with emotions and nuances, majestic compositions and intricate "laykari" create an aesthetic charm that permeate his vocal renderings.
An erudite and thoughtful musician, Falguni Mitra receives unqualified appreciation for his lecture-demonstations and articles in various journals in the country and abroad.
শ্রী কৌশিক ভট্টাচার্য্য
Sri Koushik Bhattacharjee
Koushik Bhattacharjee is a prominent Indian Classical vocalist and teacher at Dover Lane Music Academy, Manindra Sangeet Tirtha, Bhowanipur Sangeet Sammilan.
He is the son of renowned Classical Vocalist Late Pt. Pataki Bhattacharjee. Koushik Bhattacharjee started learning Indian Classical Music at the age of seven under the guidance of his father Late Pandit Pataki Bhattacharjee, a renowned Classical Vocalist. Later, after getting selected as a Scholar at ITC Sangeet Research Academy, he continued his training under Pandit Arun Bhaduri and Late Pandit K.G. Ginde. He eventually became the "Ganda Bandh Shagird" of Late Pandit K.G. Ginde and also trained later under the guidance of Pandit Sunil Bose.
Koushik has participated in many major and prestigious concerts, including the Dover Lane Music Conference, the ITC Sangeet Sammelan, the West Bengal State Music Conference, Uttarpara Sangeet Chakra, etc. in India and Radio France, Association Ganapati (Bordeaux, France), Theatre of La Rochelle (La Rochelle, France), ITC Tour in USA & Canada, different Countries of Europe, etc.
বিদূষী মঞ্জিরি কেলকার
Vidushi Manjiri Kelkar
A performance so captivating as to evoke nostalgic memories of a bygone era of the inimitable redoubtable musician Soorashri Kesarbai Kerkar and to prompt spontaneous appreciative title "Future Kesarbai Kerkar" from a personage no less than Late Shri. P. L. Deshpande, a revered name in Music and Marathi literature, is the distinctive feature of Manjiri Kelkar – a scion of the Jaipur Atrauli Gharana.
Manjiri has inherited the rich tradition of Jaipur Atrauli Gharana from Pandit Kanetkar, doyen of the gharana. The effect of Pandit Kanetkar's long association with Ustad Bhurji Khansaheb is aptly reflected in the melodious singing of Manjiri. She exhibits astonishing depth of understanding in Music. Her pliant, polished and seasoned voice with open Akaar, her easy and graceful glides, intertwining of Laya and Swara so fine as to make the two appear inseparable- a noteworthy feature so characteristic of Jaipur Gharana.
Manjiri has received wide acclaim for her performances at the 41st Sawai Gandharva Music Festival-Pune, Megh-Malhar Samaroha 1994 – Mumbai, Jaipur Samaroha 1995 – Bhopal, Tansen Samaroha 1998 – Gwalior, Kesarbai Kerkar Smriti Samaroha-Goa and at numerous other concerts. The enraptured audience at Kolkata literally gave her a standing ovation at the conclusion of her program organized by ITC Sangeet Sammelan in 1996 / 2004, a rare honour indeed. She has mesmerized audiences in Sangeet Natak Academy, 2003 Hydrabad, Harwallab Music Festival 2003, Jalandhar, Shankarlal Festival – 2000 / 2004 Delhi, Dover Lane Conference 2004 – Kolkata.